The increased use of laptops and other portable devices on campus as well as an increase in learning mobility across locations around the campus has fuelled the demand for campus wireless network facilities.
Since Academic Year 2001, the Office of Library and Information Services has set out to deploy campus wireless network covering all Departments, classrooms, the University Library, administrative buildings, the activity center and campus to benefit faculty, staff and students of Yuan Ze University from the on-the-go Internet access on campus to facilitate their academic studies and research.
Wireless Network Architecture
Wireless Network Devices include:
RADIUS Server
Wireless Access Point (WAP) using 802.11b standards
Network Connection Devices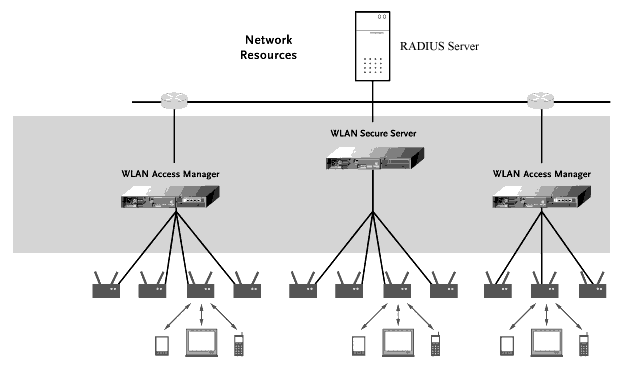 Wireless Network Architecture Diagram
WAP Transmit Speed

The Yuan Ze University is WiFi compliant (aka 802.11 a/b/g standard), which is integrated into most recent laptops. Wireless Access Points (WAPs) using 802.11b standards currently reach a speed of 54Mbps and are expected to transmit at 100 Mbps in the future.

Wireless LAN Security

Wireless access has special security considerations. When wireless access points are connected to the network, anyone could connect. The most common solution is wireless traffic encryption. Modern access points come with built-in encryption. However, the first generation encryption scheme Wired Equivalent Privacy (WEP) proved easy to crack. Some wireless access points support authentication using Remote Authentication Dial In User Service (RADIUS) or an NT Domain server on Forefront Unified Access Gateway (UAG). The wireless LAN security of Yuan Ze University is maintained through a user authentication system validating users' email account and password.

Wireless Network Roaming Service

The Campus Network Roaming Service allows all members of the University to access the University computer network from laptops and other portable devices across locations around the campus. To gain access to the network roaming service, users must pass user authentication via validating their valid email account and password.

Going Wireless

With the maturing of industry standards together with the lightweight wireless networking hardware, the Office of Library and Information Services aims to reach the goal of e-campus going wireless to provide members of the University with an online advanced learning environment.