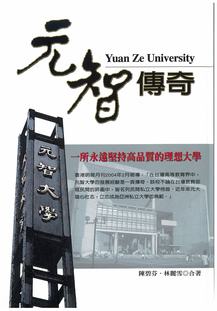 TWICE culture invites two senior journalists – Chen Bi Fen and Lin Li Xue to write a book about the higher education in Taiwan, and the book also introduces the inventive model of management and organization of Yuan Ze, praised as "A Legend of higher education in Taiwan" by Ming Pao of Hong Kong.

The innovative thinking, flexible management and professional leadership make Yuan Ze the first school of 156 colleges and universities in the country to achieve the ISO 9001certification in teaching and administration. For years it has been one of 12 top universities in excellent advanced schools supported by Ministry of Education of the "Five-Year 50 Billion Project.

The goal of a high standard of higher education system has been set for many universities in Taiwan. Yuan Ze has invested in more than a decade with many pioneers' and follower's contributions. The book shares its experiences in education management with people who care, and hope to inspire experts in the higher education system.