說明:
一、寒假住宿申請 / Application date for winter vacation accommodation: 2017/12/22~12/29
二、寒假住宿期間 / Accommodation Period: 2018/1/15~2/25
  境外同學如寒假期間有住宿需求,務請完成寒假住宿申請手續〈請看申請流程〉,否則不提供門禁與網路使用。
  Any foreign students who wish to stay in this period must complete the following procedures (See below),
  or else neither internet nor access card will be provided.
三、春節休館期間 / Dorm closing on Chinese New Year: 2018/2/14~2/21
  境外研究生如必須留宿,務請至宿服組登記。
  Foreign students who wish to stay in the dorm must apply at Student Housing Service Section.
四、寒宿住宿申請流程 / Application procedures for Winter Vacation accommodation: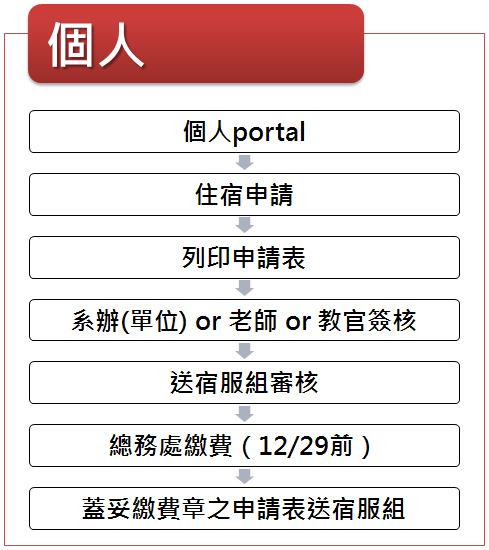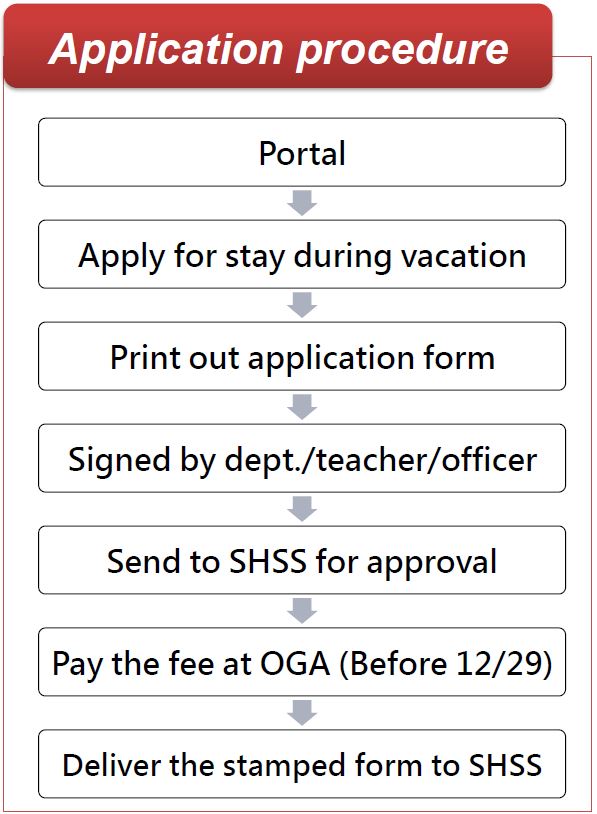 五、休館期間學校軍訓室每日仍有執勤教官值班,如遇緊急狀況或身體不適,請撥打電話03-4553698。
  The school military office is open during the period. If you have an emergency or feel sick, please call 03-4553698.
六、春節休館期間宿舍僅供應電熱水器之熱水,男生請至男一舍各樓層之B區衛浴間,女生請至每樓層房號尾數為13附近的衛浴間沐浴。
  The dorm only provides hot water from the electric heater. Males should take a show in Section B of Male Dorm 1;
  Females should head to the shower room nearby room No. 13 of each floor.
七、如有任何問題請洽宿服組(男1舍1樓)。
  Please enquire from the Student Housing Service Section if you have any questions (1st floor of Male Dorm 1).